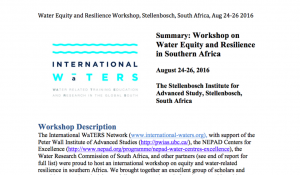 Luker, E., L. Rodina & L. Harris (2016). Summary Report: Workshop on Water Equity and Resilience in Southern Africa. The International WaTERS Network and The University of British Columbia, Institute for Resources, Environment and Sustainability.
Workshop Description:
The International WaTERS Network (www.international-waters.org), with support of the Peter Wall Institute of Advanced Studies (http://pwias.ubc.ca/), the NEPAD Centers for Excellence (http://www.nepad.org/programme/nepad-water-centres-excellence), the Water Research Commission of South Africa, and other partners (see end of report for full list) were proud to host an international workshop on equity and water-related resilience in southern Africa. We brought together an excellent group of scholars and practitioners to share insights, and discuss research needs focusing on, and based in, southern Africa. Additionally, the workshop focused on goal setting, research dissemination and grant writing for the future of the International WaTERS Network research program.