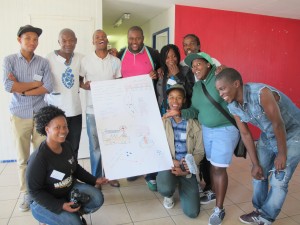 Situated Urban Political Ecologies (or SUPE) is a research collective and a platform for research projects and activities that relate to situated ecologies and contested ecologies viewed through the lens of urbanization. The work of this collective draws on the field of political ecology and related disciplines (e.g., human and critical geography, STS, and environmental history) concerned with questions of social and environmental justice in urbanizing contexts. Some of the work done by SUPE includes case studies in Cape Town, New Orleans and Stockholm where individual researchers have developed case studies on urban issues of food security, civic-led wetland/fynbos rehabilitation, and co-management of nature reserve in post-apatheid geographies, alongside studies of port capital, civic struggle and coastal ecosystems. Subprojects also include an edited international book project called Grounding Urban Natures, and the Cape Town Civic Network Study' (CT-CIVNET) on collective action and environmental justice (see more HERE).
As the work of EDGES in Africa is concerned with very similar research agendas, a few EDGES researchers have a informal affiliation with the SUPE collective, which recently published a short overview of our research projects in Africa. It highlights the research of Dr. Leila Harris, Dr. Crystal Tremblay, Elizabeth Dapaah, Cynthia Morinville, Megan Peloso, Lucy Rodina and Scott McKenzie, working on the Comparative Water Governance in urban sites of Africa Research Project (CWGAR). The project encompasses a number of multi-year studies that focus on research at the intersection of water access/governance and citizenship in urban contexts, most notably in Cape Town, South Africa and Accra, Ghana. This project is also interested in the differentiated effects of neoliberal policies and market instruments on the lived experiences of water access and participation in water governance in these locales. To read the full piece, please visit SUPE's website HERE.
The piece also features a short video from Crystal's Tremblay's recent trip to Cape Town.