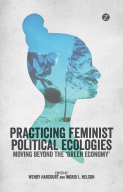 Harris, L. (2015) Hegemonic Water and Rethinking Natures Otherwise. In: W. Harcourt and I. L. Nelson (Eds) Practicing Feminist Political Ecologies. Zed Books: London, pp. 157-181.
Destined to transform its field, this volume features some of the most exciting feminist scholars and activists working within feminist political ecology, including Giovanna Di Chiro, Dianne Rocheleau, Catherine Walsh and Christa Wichterich. Offering a collective critique of the 'green economy', it features the latest analyses of the post-Rio+20 debates alongside a nuanced reading of the impact of the current ecological and economic crises on women as well as their communities and ecologies.
This new, politically timely and engaging text puts feminist political ecology back on the map.
Table of Contents
Figures | Acknowledgements
Introduction: are we 'green' yet? And the violence of asking
such a question
Wendy Harcourt and Ingrid L. Nelson
SECTION ONE Positioning feminist political ecology
1 A situated view of feminist political ecology from my networks,
roots and territories
Dianne Rocheleau
2 Contesting green growth, connecting care, commons and
enough
Christa Wichterich
3 Life, nature and gender otherwise: feminist reflections and
provocations from the Andes
Catherine Walsh
SECTION TWO Rethinking feminist political ecology
4 Feminist political ecology and the (un)making of 'heroes':
encounters in Mozambique
Ingrid L. Nelson
5 Hegemonic waters and rethinking natures otherwise
Leila M. Harris
6 Challenging the romance with resilience: communities, scale
and climate change
Andrea J. Nightingale
SECTION THREE Living feminist political ecology
7 A new spelling of sustainability: engaging feminist-environmental
justice theory and practice
Giovanna Di Chiro
8 The slips and slides of trying to live feminist political ecology
Wendy Harcourt
9 Knowledge about, knowledge with: dilemmas of researching
lives, nature and genders otherwise
Larissa Barbosa da Costa, Rosalba Icaza and Angélica María
Ocampo Talero
10 World-wise otherwise stories for our endtimes: conversations
on queer ecologies
Wendy Harcourt, Sacha Knox and Tara Tabassi
Contributors
Index