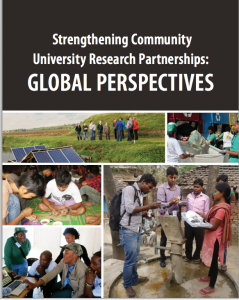 We are happy to share the recent UNESCO Chair on Community-based Research open-source publication "Strengthening Community University Research Partnerships: Global Perspectives', co-published by PRIA and University of Victoria Press. Here is an excerpt from the foreword:
"Research partnerships are key to ensuring a dynamic and collaborative research agenda and to breaking free from traditional disciplinary and other boundaries to research excellence. This has been key to United Nations University (UNU) strategic development, through collaborations both within and outside the UNU system. One most recent example is the UNU Migration Network. This network of over fifty experts in migration research, based in UNU institutes worldwide, and coming from a range of
thematic and disciplinary backgrounds, was launched in 2013 from the UNU Institute on Globalization, Culture and Mobility (UNU-GCM) in Barcelona. It already has a number of projects, involving both researchers from across the network and external partners, and is continuing to develop new forms of partnerships within the migration field and beyond. This is an exciting moment for institutions of research and higher education. Te GUNi mission of ensuring that universities develop under a vision of public service, relevance and social responsibility will be key in developing a sector that is able to contribute to new and emerging challenges. This year is an important one.
As the world reflects on the experience of the Millennium Development Goals and works towards the launch, in September, of the new Sustainable Development Agenda, it is crucial that those engaged in research and education drive an agenda that is evidence-based and reflects the latest research results. Te announcement of the final versions of the Sustainable Development Goals (SDGs) is not the end, but the beginning, and those in the research and higher education sector will have a crucial role in ensuring that the emerging global agenda lives up to its commitments. Our work will include both supporting the development of good policy that promotes the realization of the goals, and ensuring ongoing analysis to effectively measure progress in this area"
– Dr. David Malone, Rector, United Nations University