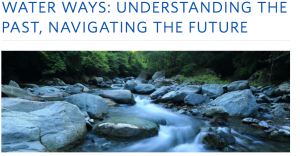 As part of its Centennial celebration, UBC will host a series of Emerging Research Workshops, including a session on Water Ways: Understanding the Past, Navigating the Future, which will take place on March 8, 9 and 10th, 2016. This workshop is intended to bring together leading water experts from UBC and the global academe to share knowledge and advance emerging ideas. The workshop aims to connect the diverse community of water researchers at UBC across multiple disciplines. Everyone can register for this workshops HERE.
Among the organizers of the Water Ways series of events is EDGES member Sameer Shah. Dr. Leila Harris and Kiely McFarlane will both give talks at the Water Policy panel. Kiely's talk examines the role of public consultation processes in the development of water policy, drawing on the public engagement process during BC's Water Act Modernization. Through a detailed analysis of the consultation process, submissions on the Act, and the Act itself, Kiely explores some of the challenges involved in enabling democratic public engagement in policy-making.
Leila's talk explores several key governance shifts of the past with respect to water provision, access, and management. While the past century was dominated by large scale infrastructural investments, often characterized by centralized decision making and supply side orientation, more recent emphases have included attention to ecological consequences, equity considerations, and demand-side approaches (conservation, soft-path approaches, use of markets, and so forth). Highlighting several key discursive and governance shifts, the presentation traces the terrain of the rapidly changing field of water governance, calls attention to some particular equity concerns related to different governance paradigms, and also lays out current and future challenges with respect to where water governance is going at present, and likely needs to move into the future.
When: 10:45 AM –  12:15 PM
What: SESSION SIX: WATER POLICY
How has water policy and governance evolved in the last 100 years, and where is it going, with respect to topics such as agriculture, water provision, and energy production?
Session Speakers:
Session Keynote: Leila M. Harris, Associate Professor, Institute for Gender, Race, Sexuality & Social Justice, and Insitute for Resources, Environment and Sustainability (UBC)
UBC Speaker #1: Jordi Honey-Rosés, Assistant Professor, School of Community and Regional Planning
UBC Speaker #2: Kiely McFarlane, PhD Student, Institute for Resources, Environment & Sustainability
More information is available HERE.
The sessions are also available for on-demand viewing online HERE.