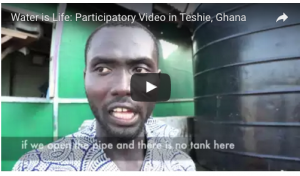 In 2014 and 2015, post-doctoral fellow and EDGES member Crystal Tremblay conducted participatory video workshops and community-based research in Site C, Khayelitsha, Cape Town, co-facilitated by Iliso Care Society and the Environmental Monitoring Group. Similar work in Teshie, Accra was done collaboratively with ISODEC and the local assembly (LEKMA), as well as other community partners and civil society organizations.  Videos and other updates are available on Crystal's website at www.crystaltremblay.com and on her youtube channel. These videos are now finalized and available online:
'Water is Life'  documents the situation of water and sanitation in Teshie, Accra.
'It's Your Chance' is a co-production with the Iliso Care Society in Khayelitsha based on youth interviews on water and sanitation concerns in the community (Site C, Khayelitsha).
You can learn more at www.crystaltremblay.com