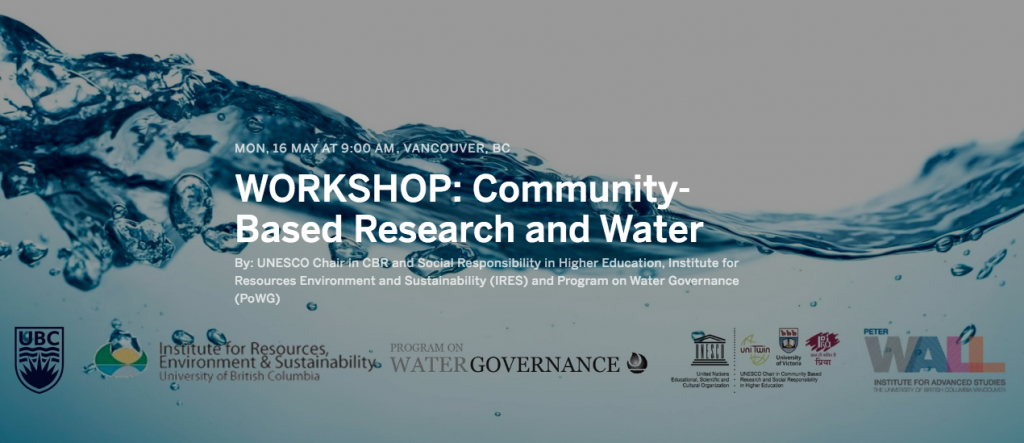 The Institute of Resources, Environment and Sustainability (IRES–UBC), the Program on Water Governance (UBC) and the UNESCO Chair on Community Based Research and Social Responsibility in Higher Education (UVic) are pleased to invite you to the workshop Community Based Research and Water on May 16 from 9:00 am to 3:00 pm at the Peter Wall Institute for Advanced Studies.
The event will consist in two different sessions combining theory and practice of community-based research (CBR). In the morning session (9:00 am – 12:00 pm), several panels and roundtables will present and discuss relevant issues regarding CBR theory and practice, with a special focus on water. On the afternoon (1:00 pm – 3:00 pm), two interactive workshops will be offered to learn and explore different research methodologies and approaches to CBR. One workshop will focus on working with first nations (ethics, protocol, etc..) and the other will focus on arts-based engagement related to CBR.
RSVP for the workshop is required. To register and for a more detailed description of the workshop, please click HERE.
Lunch will be provided for full-day participants only.
If you have any questions about the event, please do not hesitate to get in touch with Sameer Shah, at sshah089@gmail.com or Leila Harris at lharris@ires.ubc.ca.
This workshop is provided at no cost, and serves as a knowledge mobilization effort related to several ongoing research efforts, in particular, the NextGen project to train the next generation of CBR researchers. Check out www.watergovernance.ca for details on this and several other related projects that will be featured in our discussions.
Background materials:
1. VIDEO COLLECTION OF TRAINING IN COMMUNITY BASED RESEARCH
This unique resource guide provides a summary of videos on key topic areas related to teaching and training materials for Community Based Research from around the world. A selection of 68 videos were selected as video training materials, falling into six pedagogical themes including: Ethics & Values, Multiple Modes of Inquiry, Researcher as a Facilitator, Power & Partnerships, Balancing Classroom & Field, and a more General category.
http://unescochair-cbrsr.org/wp-content/uploads/2015/09/CBR-Video-Resource-Guide-Final_20160427.pdf
2. Annotated Bibliography: TRAINING IN COMMUNITY BASED RESEARCH (CBR): WATER GOVERNANCE
This annotated bibliography includes literature from different countries and regions on the subject of CBR and water governance, with a particular focus on training. The selected literature is categorized within five closely linked typologies, including: 1. Training in Community Based Research in Water Governance; 2. Citizen Science and Water Governance; 3. Participatory Water Governance; 4. Training in Formal Education Programs using Participatory and Community Based Research; and 5. Training in Participatory Research Models for Civil Society and Practitioners.
http://unescochair-cbrsr.org/pdf/resource/CBR_Annotated_Bibliography_Final_May_2016.pdf
3. Global Thematic Review on Training in CBR: Water Governance
This report presents a literature review and analysis of teaching and training materials in CBR with a focus on water governance. It also provides a typology of relevant training modalities, and a selection of several training programs as illustrative 'best practice' examples.
http://unescochair-cbrsr.org/pdf/resource/kp/UBC_Water_Governance.pdf
4. Global Thematic Review on Training in CBR: Indigenous Research Methodologies (Partner: University of Victoria)
7.  Global Thematic Review on Training in CBR: Indigenous People and Perspectives from Latin America (Partner: University of Victoria)