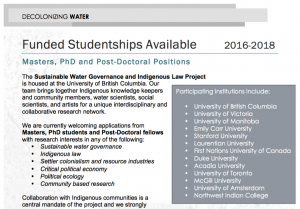 The Sustainable Water Governance and Indigenous Law Project are currently welcoming applications from Masters, PhD students and Post-Doctoral fellows with research interests in any of the following:
Sustainable water governance
Indigenous law
Settler colonialism and resource industries
Critical political economy
Political ecology
Community based research
Collaboration with Indigenous communities is a central mandate of the project and we strongly support interdisciplinary applications that use community based research methods.
This research project seeks to advance scholarship on Indigenous law and sustainable water co8 governance. Indigenous voices and perspectives are at the core of our team, which includes Indigenous knowledge keepers and community members, water scientists, social scientists, and artists.
See HERE for full announcement and research project description.