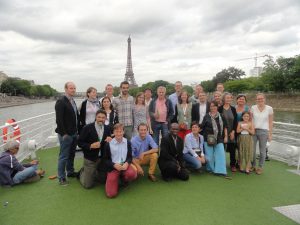 EDGES members Dr. Leila Harris and Scott Mckenzie recently participated in a conference held in Paris, France, July 2016: L'Accès à l'Eau en Afrique : vers de nouveaux paradigmes ? Vulnérabilité, Exclusion, Résiliences et Nouvelles Solidarités" (Accessing Water in Africa:emerging paradigms between risks, resiliences and new solidarities") 
Involving researchers from all over the world, the conference involved several days of talks and discussion to explore these themes, with examples from around the African continent.  Dr. Leila Harris presented a paper entitled: 
Equity and Justice: Narratives and lived experiences of water access in underserved areas of Accra Ghana. 
Pictured here: the workshop group on an evening excursion on the river Seine.