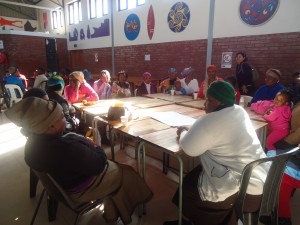 During a second visit to Cape Town, South Africa, with the invaluable help of Iliso Care Society, Lucy Rodina organized a community debrief event in Site C, Khayelitsha, to present some aspects of her research activities during 2012, including a preview of the CWGAR project, and to welcome feedback from the community. The event took place on July 2 in the Ntlanganiso Hall in Site C, and was attended by close to 100 residents of Site C and the surrounding areas. 3 members of the Environmental Monitoring Group (EMG) were actively involved in the facilitation of the Q&A session of the event.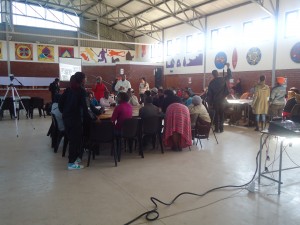 With respect to water services, Site C is currently undergoing a housing formalization process, whereby shacks are gradually being replaced by subsidized houses with private, in-house water and toilet facilities. Currently, close to half the Site C is formalized, whereas the remaining residents live in shacks and use communal water taps and toilets. After Lucy's presentation, the community members were invited to form smaller discussion groups to talk more about some of the uncertainties around payment for services (which is to be implemented in the future after the housing formalization process in the area is completed), water conservation efforts and engagement with the municipality in solving problems with water leaks. The discussion groups raised many important questions and contributed to a lively conversation about how to resolve some of the uncertainties around water services in the area.
We thank the EMG representatives for sharing their experiences and lessons learnt in other areas in Khayelitsha with the members of Site C. We also thank Iliso Care Society and the entire community of Site C for assisting us with our research activities.