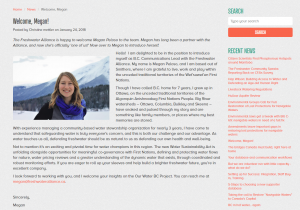 We congratulate IRES and EDGES Alumna Megan Peloso (MA) on her new position as B.C. Communications Lead with the Freshwater Alliance, where she develops creative engagement tools to advance freshwater health across BC. Megan is based out of Smithers in the Northwest region of British Columbia.
Megan earned an MA at IRES in Natural Resource Management and Environmental Studies in 2014. She also holds certification as Program Manager and Field Technician in CABIN (Canadian Aquatic Biomonitoring Network) from the University of New Brunswick, and a Bachelors of Social Sciences in International Development and Globalization from the University of Ottawa.
She looks forward to applying her academic background and professional skills to the Freshwater Alliance's Our Water BC Project.
To view her introduction at Freshwater Alliance, click here.