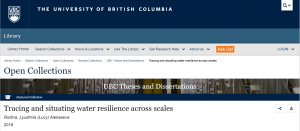 EDGES member Lucy Rodina's doctoral thesis, "Tracing and situating water resilience across scales", is now complete and available online!
Abstract
Under increasing urbanization and climate change impacts, many cities today are facing higher risks of water scarcity, flooding, or water pollution. Building resilience in the water sector is widely recognized as a key objective across scales—from global to local. However, there remain key gaps in theoretical and empirical understanding of how resilience thinking is to be applied in the context of water systems and water governance. In addressing these gaps, this dissertation draws on several methods to theorize and develop a situated understanding of "water resilience"—attentive to specific biophysical environments, socio-political contexts, and lived experiences. I first provide a comprehensive overview of how resilience ideas articulate with contemporary thinking in water governance and water resource management (Chapter 2). I find that the resilience informed water governance literature remains fragmented and predominantly centered on conventional approaches and framings. It thus still lacks integrative or innovative approaches that encompass the various dimensions of the water system.
However, I also find that while debates about how to theorize or operationalize resilience in relation to different systems—social or biophysical—may be unresolved, defining resilience is likely not a key factor in how experts think it should be operationalized (Chapter 3). Instead, realizing resilience involves focusing on the trade-offs, tensions and conflicts that arise from resilience building efforts in different contexts. I draw on evidence from fieldwork in Cape Town to document and compare different water resilience framings and to critically examine their implications in the context of Cape Town's municipal water management. I find that various notions of water resilience co-exist in tension with each other and with resilience frameworks imposed by external actors. Situating these resilience debates in Cape Town's marginalized urban spaces further demonstrates that these sites are central to urban social-hydrological resilience despite being physically located at the periphery. These results reveal conflicts and disconnections that inhibit socio-hydrological resilience in Cape Town. Ultimately, this dissertation argues that water resilience is a fruitful boundary concept whose application, however, requires unpacking and addressing fragmented governance processes, power and inequality.
To view full version of Lucy's thesis, click below link.
https://open.library.ubc.ca/cIRcle/collections/ubctheses/24/items/1.0369054