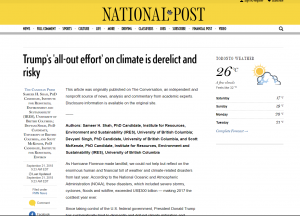 EDGES member Sameer H. Shah and Scott McKenzie, and Devyani Singh published an op-ed piece on National Post, titled "Trump's 'all-out effort- on climate is derelict and risky."
This article was originally published on The Conversation, an independent and nonprofit source of news, analysis and commentary from academic experts. Disclosure information is available on the original site.
To view full article, click here.