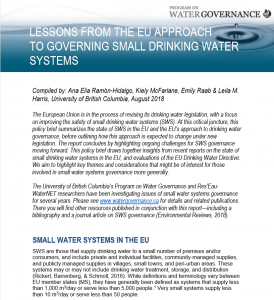 Ana Elia Ramón-Hidalgo, Kiely McFarlane, Emily Raab and Leila M. Harris compiled a policy brief that draws together insights from recent reports on the state of small drinking water systems in the EU, and evaluations of the EU Drinking Water Directive.
The brief aims to highlight key themes and considerations that might be of interest for those involved in small water systems governance more generally.
To view PDF, click here.