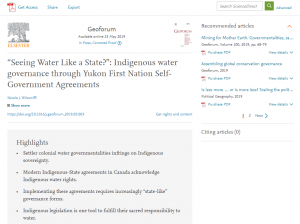 EDGES alumna Nicole J. Wilson published an article titled, ""Seeing Water Like a State?": Indigenous water governance through Yukon First Nation Self-Government Agreements" in Geoforum.
Abstract: Yukon First Nations and the waters within their traditional territories face a variety of socio-political and environmental pressures including the effects of historical and ongoing settler colonialism, global environmental change and mining activity. These communities are in the process of implementing Self-Government and Modern land claim agreements, which contain powerful acknowledgements of Indigenous rights and authorities, including the right to unaltered "water quality, quantity and rate of flow" on Settlement lands (∼10 percent of their traditional territories). Self-governing Yukon First Nations have real, although limited, legal authorities on Settlement Lands including the ability to enact laws that supersede territorial legislation. Through research conducted in partnership with four Yukon First Nations (Carcross/Tagish, Kluane, Tr'ondëk Hwëch'in and White River First Nations), I examine how these Indigenous governments are engaging the authorities acknowledged in Modern Land Claim and Self-Government Agreements to assert their rights and responsibilities to water as a more-than-human relation. In particular, I analyze the potential for the creation of legislation pertaining to water on Settlement Land. I engage with critical Indigenous scholarship to examine the challenges facing these communities and to reveal emerging approaches to Indigenous water governance. More specifically, I analyze the "state-like" bureaucracies that First Nations must develop to assert their sovereignty in this context. While these forms of governance are critiqued for bearing little resemblance to traditional forms of governance, I demonstrate how First Nations exercise self-determination as they strategically navigate these opportunities in order to protect water in a manner, they deem consistent with the values, principles and relationships of Indigenous water governance.
Wilson, N.J. (2019). ""Seeing Water Like a State?": Indigenous water governance through Yukon First Nation Self-Government Agreements." Geoforum.
To view full article, click here.