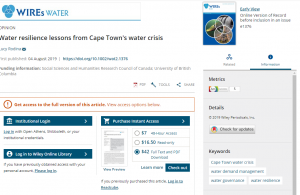 EDGES alumna Lucy Rodina published an article titled "Water resilience lessons from Cape Town's water crisis" in WIREs Water.
Abstract: In the aftermath of the acute water crisis, building resilience in the water sector has become a priority for the City of Cape Town. In this piece, I discuss several emerging lessons from Cape Town's experience and their implications for water resilience more broadly. While having avoided "Day Zero," Cape Town has also demonstrated how unprepared many municipalities might be as they face growing variability and uncertainty in the hydrologic cycle. Second, Cape Town's experience also signals the limits of conventional demand and supply paradigms that focus on high efficiency and overallocation of water resources. Furthermore, Cape Town's deeply unequal waterscape and acutely divisive politics are among the most important factors that shaped not only how the crisis unfolded, but also the ability of governance systems to respond in a timely and adequate manner.
To view full article, click here.
Rodina, L. (2019). Water resilience lessons from Cape Town's water crisis. Wiley Interdisciplinary Reviews: Water 16(4), 22–7. http://doi.org/10.1002/wat2.1376