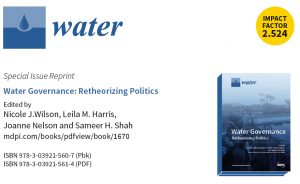 Leila M. Harris, Sameer H. Shah, Nicole J. Wilson, and Joanne Nelson edited the special issue titled "Water Governance: Retheorizing Politics" in Water, now re-published in book form.
Description: This republished Special Issue highlights recent and emergent concepts and approaches to water governance that re-centers the political in relation to water-related decision making, use, and management. To do so at once is to focus on diverse ontologies, meanings and values of water, and related contestations regarding its use, or its importance for livelihoods, identity, or place-making. Building on insights from science and technology studies, feminist, and postcolonial approaches, we engage broadly with the ways that water-related decision making is often depoliticized and evacuated of political content or meaning—and to what effect. Key themes that emerged from the contributions include the politics of water infrastructure and insecurity; participatory politics and multi-scalar governance dynamics; politics related to emergent technologies of water (bottled or packaged water, and water desalination); and Indigenous water governance.
Harris, L. M., Shah, S. H., Wilson, N. J., & Nelson, J. Special Issue" Water Governance: Retheorizing Politics. 
Open access book available here.