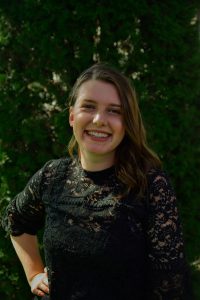 EDGES member, Taya Triffo, has been awarded a Canada Graduate Scholarship – Master's Award administered by the Social Sciences and Humanities Research Council of Canada! Congratulations, Taya!
Under the supervision of Dr. Leila Harris, Taya is developing her thesis research on equity, urban water resilience, and resource planning in the City of Vancouver. She plans to investigate how residents articulate, envision, and prioritize water resilience in their neighbourhoods. In particular, this research is interested in the equity dimensions of water resilience, including how equity concerns are articulated in water governance strategies. Combining critical GIS and participatory planning workshops with Vancouver residents, Taya plans to pay particular attention to how resilience and equity are mapped, articulated, and represented across space. Authoritative artifacts like strategies and maps will be reimagined through the eyes, voices, and hearts of residents. This will enable analysis about the sorts of concerns, priorities and visions that emerge for residents, and how these might be constructed in documents, like maps and strategies.
To this research, she brings her keen interest in the social and political dimensions of transformative change. Taya is interested in how communities articulate, organize, negotiate, and envision possible futures during times of transition and reform. In particular, she is interested in how communities set agendas and attempt collective action within the food sovereignty movement and the just energy transition movement. To date, her research and work have been primarily focused in her home community of Regina, Saskatchewan in Treaty Four territory. She has participated in advocacy for the 100% Renewable Regina project — both as a community facilitator and as a policy researcher. She has worked with the Regina Qu'Appelle Health Region and the Community Engagement and Research Centre, supporting the development of a report on Saskatchewan farmers' participation in and perception of local food systems. She has worked as a program analyst with the Saskatchewan Ministry of Agriculture. Further, she has done research with Guatemalan communities pursuing agrarian reform and a comprehensive rural community development strategy.
Contact information: ttriffo [at] student [dot] ubc [dot] ca