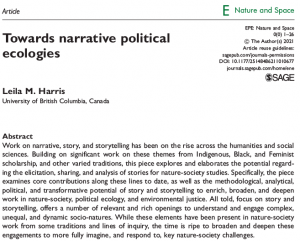 Abstract: Work on narrative, story, and storytelling has been on the rise across the humanities and social sciences. Building on significant work on these themes from Indigenous, Black, and Feminist scholarship, and other varied traditions, this piece explores and elaborates the potential regarding the elicitation, sharing, and analysis of stories for nature-society studies. Specifically, the piece examines core contributions along these lines to date, as well as the methodological, analytical, political, and transformative potential of story and storytelling to enrich, broaden, and deepen work in nature-society, political ecology, and environmental justice. All told, focus on story and storytelling, offers a number of relevant and rich openings to understand and engage complex, unequal, and dynamic socio-natures. While these elements have been present in nature-society work from some traditions and lines of inquiry, the time is ripe to broaden and deepen these engagements to more fully imagine, and respond to, key nature-society challenges.
Harris, L. M. (2021). Towards enriched narrative political ecologies. Environment and Planning E: Nature and Space. doi:10.1177/25148486211010677.
Open access to publication available here.