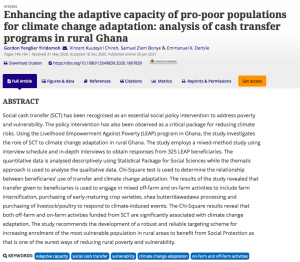 Abstract: Social cash transfer (SCT) has been recognised as an essential social policy intervention to address poverty and vulnerability. The policy intervention has also been observed as a critical package for reducing climate risks. Using the Livelihood Empowerment Against Poverty (LEAP) program in Ghana, the study investigates the role of SCT to climate change adaptation in rural Ghana. The study employs a mixed-method study using interview schedule and in-depth interviews to obtain responses from 325 LEAP beneficiaries. The quantitative data is analysed descriptively using Statistical Package for Social Sciences while the thematic approach is used to analyse the qualitative data. Chi-Square test is used to determine the relationship between beneficiaries' use of transfer and climate change adaptation. The results of the study revealed that transfer given to beneficiaries is used to engage in mixed off-farm and on-farm activities to include farm intensification, purchasing of early-maturing crop varieties, shea butter/dawadawa processing and purchasing of livestock/poultry to respond to climate-induced events. The Chi-Square results reveal that both off-farm and on-farm activities funded from SCT are significantly associated with climate change adaptation. The study recommends the development of a robust and reliable targeting scheme for increasing enrolment of the most vulnerable population in rural areas to benefit from Social Protection as that is one of the surest ways of reducing rural poverty and vulnerability.
Yiridomoh, G. Y., Chireh, V. K., Bonye, S. Z., & Derbile, E. K. (2021). Enhancing the adaptive capacity of pro-poor populations for climate change adaptation: Analysis of cash transfer programs in rural Ghana. Local Environment, 26(1), 146–164.
Access to the publication available here.