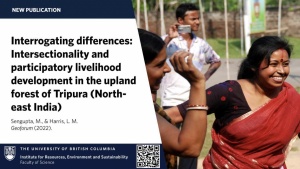 Abstract: Intersectionality is used in academic and policy circles to show how mutually constitutive axes of power and social difference intersect to shape lived experiences of inequality. The concept has made inroads in investigations of participatory development to examine people's engagement, participatory experiences, and outcomes. However, in doing so, there is sometimes a propensity to treat categories of difference as fixed or given. This myopic focus encourages generalizations around how people and groups experience power and difference, and obscures a complex understanding of how these are lived, enacted, and conditioned by diverse subject positions and embodied experiences and practices in participatory development- thus shaping intersectional subjectivity and project outcomes. This ethnographic case study shows how a tribal woman from an ethnic minority- named Purati- experiences, performs, and contests multiple aspects of difference and power in a participatory livelihood project in upland Tripura. Using feminist insights on intersectionality, interpellation, performativity, and feminist political ecology and resource governance literature, we show how multiple and shifting categories of differences are constituted in two encounters between Purati and those implementing the project. We highlight how aspects of difference and their intersections, constituted, and enacted in time and place, shape experiences of intersectionality in participatory development, and how navigating and variously responding to these can reassert and rearticulate intersectional power relations and subjectivity. This nuanced analysis of intersectionality further provides in-depth understandings of how the workings of difference and power shape participatory engagement, goals, and outcomes, and is key for debates and implementation regarding participatory development.
Mayuri Sengupta & Leila M. Harris (2022) Interrogating differences: Intersectionality and participatory livelihood development in the upland forest of Tripura (Northeast India), Geoforum 130, 59-68. https://doi.org/10.1016/j.geoforum.2022.02.002
Open access to the article is available here.