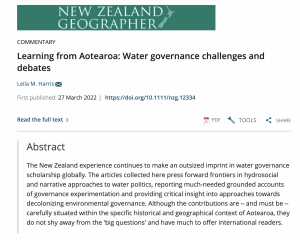 Abstract: The New Zealand experience continues to make an outsized imprint in water governance scholarship globally. The articles collected here press forward frontiers in hydrosocial and narrative approaches to water politics, reporting much-needed grounded accounts of governance experimentation and providing critical insight into approaches towards decolonizing environmental governance. Although the contributions are – and must be – carefully situated within the specific historical and geographical context of Aotearoa, they do not shy away from the 'big questions' and have much to offer international readers.
Leila M. Harris (2022) Learning from Aotearoa: water governance challenges and debates, New Zealand Geographer, https://doi.org/10.1111/nzg.12334
Early access with institutional login is available here.
COVID-19 and Discrimination Experiences in the Marshallese Communities of Springdale, Arkansas