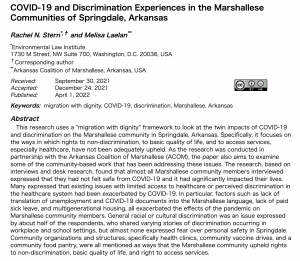 Abstract:This research uses a "migration with dignity" framework to look at the twin impacts of COVID-19 and discrimination on the Marshallese community in Springdale, Arkansas. Specifically, it focuses on the ways in which rights to non-discrimination, to basic quality of life, and to access services, especially healthcare, have not been adequately upheld. As the research was conducted in partnership with the Arkansas Coalition of Marshallese (ACOM), the paper also aims to examine some of the community-based work that has been addressing these issues. The research, based on interviews and desk research, found that almost all Marshallese community members interviewed expressed that they had not felt safe from COVID-19 and it had significantly impacted their lives. Many expressed that existing issues with limited access to healthcare or perceived discrimination in the healthcare system had been exacerbated by COVID-19. In particular, factors such as lack of translation of unemployment and COVID-19 documents into the Marshallese language, lack of paid sick leave, and multigenerational housing, all exacerbated the effects of the pandemic on Marshallese community members. General racial or cultural discrimination was an issue expressed by about half of the respondents, who shared varying stories of discrimination occurring in workplace and school settings, but almost none expressed fear over personal safety in Springdale. Community organizations and structures, specifically health clinics, community vaccine drives, and a community food pantry, were all mentioned as ways that the Marshallese community upheld rights to non-discrimination, basic quality of life, and right to access services.
Rachel N. Stern & Melisa Laelan (2022) COVID-19 and discrimination experiences in the Marshallese communities of Springdale, Arkansas, J. Disaster Res., 17(3), 365-371. https://doi.org/10.20965/jdr.2022.p0365
Free download of the article is available here.