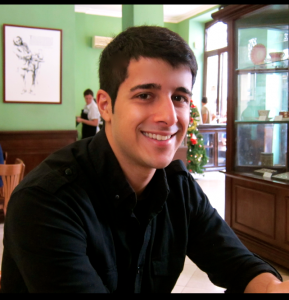 Sameer is a Ph.D. candidate at the Institute for Resources, Environment & Sustainability. He specializes in water access and governance at the rural-urban divide, with a keen focus on social justice. His doctoral work assesses the sustainability and equity of drought protection programs in Western India in the context of post-liberal political-economy. His previous scholarship focused on rural-urban water re-allocation under dynamic and changing climatic contexts in the Philippines. At present, he is the co-Principal Investigator for the Socio-Environmental Synthesis Research Centre's funded Agrarian Adaptation project where he and his colleagues are understanding underlying mechanisms shaping farm adaptation in the Indo-Gangetic regions of India.
Sameer is actively involved in water policy planning in British Columbia and across Canada. He holds an 18-month appointment as the President of the Canadian Water Network's Student and Young Professional Committee.
Sameer is a Liu Scholar, SESYNC Graduate Research Fellow, and is the recipient of the Governor General's Gold Medal (Master's level).
Publications:
Harris, L.M. McKenzie, S., Rodina, L., Shah, S.H, Wilson, N. (2018). Water justice: Concepts, debates and research agendas. In: Holifield, R., Chakraborty, J., Walker, G. (Eds.). Handbook of Environmental Justice. Routledge: London & New York
Wutich, A., Budds, J., Eichelberger, L., Geere, J., Harris, L., Horney, J., Jepson, W., Norman, E., O'Reilly, K., Pearson, A., Shah, S.H., Shinn, J., Simpson, K., Staddon, C., Stoler, J., Teodoro, M., Young, S.L. (In-Press). Advancing methods for household water insecurity research: Studying entitlements and capabilities, socio-cultural dynamics, and political processes, institutions and governance. Water Security 1 (2), np.
Jepson, W., Budds, J., Eichelberger, L., Harris, L., Norman, E., O'Reilly, K., Pearson, A., Shah, S., Shinn, J., Staddon, C., Stoler, J., Wutich, A., Young, S. Advancing water security for human development: A relational perspective. (2017). Water Security 1, p. 46-52. doi:10.1016/j.wasec.2017.07.001
Shah, S.H., Zerriffi, H. (2017). Urban water demand, climatic variation, and irrigation water insecurity: Interactive stressors and lessons for water governance from the Angat River Basin (Philippines). Water International 42 (5), p. 543-567. doi:10.1080/02508060.2017.1342073.
Shah, S.H., Angeles, L.C., Harris, L.M. (2017). Worlding the intangibility of resilience: The case of rice farmers and water-related risk in the Philippines. World Development 98, p. 400-412. doi:10.1016/j.worlddev.2017.05.004.
Shah, S.H., Gibson, R.B. (2013). Large dam development in India: sustainability criteria for the assessment of critical river basin infrastructure. International Journal of River Basin Management 11 (1), p. 33-53. doi:10.1080/15715124.2012.754445.
Contact: sshah089 [at] gmail [dot] com
Website: www.sameerhshah.com