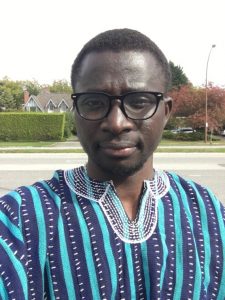 Vincent is a Ph.D. student at the Institute for Resources, Environment and Sustainability under the supervision of Professors Jordi Honey-Roses and Leila Harris. His broad research interest is water governance, water demand management (WDM), equitable water access and WASH (in LMIC). Specifically, his current research explores the opportunities and challenges of managing the demand for residential water use in the Greater Vancouver Water District (GVWD). He will investigate equity concerns in one of the cities advanced in the implementation of household water metering.
Vincent previously studied Geography and Resources Development at the University of Ghana, Legon for his undergraduate degree, and Environmental Policy at the Memorial University of Newfoundland, Canada. In his master's research, Vincent used the new-regionalism framework to explore the opportunities and potential resources in rural communities to enhance a regional-scale water management system in Newfoundland.
Before joining EDGES, Vincent honed community engagement, project management, and planning skills from his four years of work in the Local Government Service in Ghana. He led various teams to implement projects including physical infrastructure development, water and sanitation and social initiatives sponsored by the government, UNICEF, UNDP, Plan-Ghana, and the World Bank.
Refereed Publications
Abdul-Rahim A., Chireh, V. K., Roza., T. (in press). Engaging diverse audiences: The role of community radio in rural climate change knowledge translation. Journal of Community Engagement and Scholarship.
Honey-Rosés, J., Anguelovski, I., Chireh, V. K., Daher, C., Konijnendijk van den Bosch, C., Litt, J. S., Mawani, V., McCall, M. K., Orellana, A., Oscilowicz, E., Sánchez, U., Senbel, M., Tan, X., Villagomez, E., Zapata, O., & Nieuwenhuijsen, M. J. (2020). The impact of COVID-19 on public space: an early review of the emerging questions – design, perceptions and inequities. Cities & Health, 1–17. https://doi.org/10.1080/23748834.2020.1780074
Ayetor, S. K. & Chireh, V. K. (2014). 2010 Population and Housing Census; District Analytical Report, Ajumako/Enyan/Essiam District Assembly. http://www.statsghana.gov.gh/docfiles/2010_District_Report/Central/AJUMAKO%20ENYAN%20-%20ESIAM.pdf